Baek Ah was a member of Bi Yeong Pal Mu.
Compact Heist Arc
Edit
One midnight, Baek Ah and Baek Ju tail the Crimson Moon and Yi Jeok for stealing the compact in the chief state councilor's residence. While in pursuit, the Crimson Moon battles his companion Baek Ju and throws a smoke bomb into them, letting him escape. Heuk Rang then arrives at the place and throws a poisoned dagger at the Crimson Moon and wounds him. He and Baek Ju are then ordered to search for him.[1]
Rebel Army Suppression: Setting in Motion
Edit
As Jin Won orders for the eradication of the rebel army, Baek Ah tails Left Minister Seo In Seon Woo as he heads to Yu Hyang Ru before sundown. Though Baek Ah reasons that the minister is single and heading to a gisaeng house is not unnatural nor illegal, the guard still finds the highly abstinent minister suspicious, deciding to look further into the matter.[2]
Rebel Army Suppression: Execution
Edit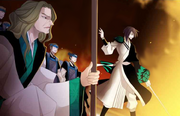 Bi Yeong Pal Mu split into two units in order to eradicate the rebel army. Baek Ah is assigned to the lead the unit that razed Yu Hyang Ru, the rebel army's center of finance and contact. They utilized a surprise ambush at the gisaeng house, setting the place on fire. He orders his forces to surround the house and capture anyone who is caught escaping the fire. He also allows his subordinates to kill anyone who resists them. Later, he orders his archers to open fire, resulting to the deaths of countless gisaeng and servants, including Yu Hyang Ru's owner, Wol Young Hwa.[3]
References
Edit
↑ Twelve Nights webtoon, chapter 10
↑ Twelve Nights webtoon, chapter 40
↑ Twelve Nights webtoon, chapter 44
Community content is available under
CC-BY-SA
unless otherwise noted.