Baek Lin is a member of Bi Yeong Pal Mu until its eventual dissolution.
Rebel Army Suppression: Setting in Motion
Edit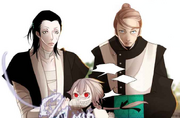 Following King Jin Won's incident at Moon's End Village that almost cost him his life, Baek Lin is assigned to guard the king per Heuk Rang's strict orders. As Won heads to Yoo Dan Ah's residence to check on her condition, Baek Lin, Baek Ju, and Baek Sa follow the king quite obviously, much to Won's annoyance. As Baek Ju remarks how she does not want to end up killed like Baek Ryung, Baek Lin immediately shuts her mouth. Won then orders them to follow him from the shadows, which they do, and Baek Lin reprimands Baek Ju, hitting her on the head.[1]
Rebel Army Suppression: Execution
Edit
Bi Yeong Pal Mu split into two units in order to eradicate the rebel army. Baek Lin is assigned to the unit led by Heuk Rang, which razed Bi Hwa Rim, the rebel army's headquarters, using a strategy that trapped the rebels escaping a fire. As the rebels fled from the mountain engulfed in an inferno towards a safer area behind the mountain, Bi Yeong Pal Mu forces await and corner them at that area, urging them to surrender or killing them if they resisted.[2]
His name means "white poison". Like the other members of Bi Yeong Pal Mu, his alias was formed out of an adjectival color and a noun.
References
Edit
Community content is available under
CC-BY-SA
unless otherwise noted.