Baek Lin is a member of Bi Yeong Pal Mu until its eventual dissolution.
Plot
[
]
Rebel Army Suppression: Setting in Motion
[
]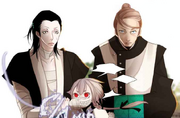 Following King Jin Won's incident at Moon's End Village that almost cost him his life, Baek Lin is assigned to guard the king per Heuk Rang's strict orders. As Won heads to Yoo Dan Ah's residence to check on her condition, Baek Lin, Baek Ju, and Baek Sa follow the king quite obviously, much to Won's annoyance. As Baek Ju remarks how she does not want to end up killed like Baek Ryung, Baek Lin immediately shuts her mouth. Won then orders them to follow him from the shadows, which they do, and Baek Lin reprimands Baek Ju, hitting her on the head.[1]
Rebel Army Suppression: Execution
[
]
Bi Yeong Pal Mu split into two units in order to eradicate the rebel army. Baek Lin is assigned to the unit led by Heuk Rang, which razed Bi Hwa Rim, the rebel army's headquarters, using a strategy that trapped the rebels escaping a fire. As the rebels fled from the mountain engulfed in an inferno towards a safer area behind the mountain, Bi Yeong Pal Mu forces await and corner them at that area, urging them to surrender or killing them if they resisted.[2]
Minister Retrieval Arc
[
]
Baek Lin takes part in cornering the Crimson Moon at the king's chambers by using the ex-Left Minister Seo In Seon Woo. After the rebels seemingly vanish into thin air, Baek Lin witnesses how a secret tunnel is unearthed as Heuk Rang recalls a passageway beneath the king's chambers where the rebels possibly escaped to.[3]
Crimson Moon Rebellion
[
]
As the rebel army's revolt commences, Baek Ju assists Bi Yeong Pal Mu in defending the palace. At some point, Baek Ju and Baek Lin notify Heuk Rang that Hyun Bin and her daughter are not in their quarters, suggesting that someone else might have gotten to them first. Heuk Rang then assigns Baek Ju to locate them, while he tasks Baek Lin to accompany him to the Queen Mother's quarters. However, upon arrival, they are aghast to see rebels already at the site, with Yeon Lee's chambers lit on fire.[4]
Trivia
[
]
His name means "white poison". Like the other members of Bi Yeong Pal Mu, his alias was formed out of an adjectival color and a noun.
References
[
]
[

]