Don't look! Major spoilers ahead!
The following content and information on this page contain plot and ending details from the series. Read at your own risk.
Chung is a boy formerly residing in the slums and the elder brother of Woon. He and his brother are later taken in by physician Ma Mi Song and his assistant Sori in their clinic.
Appearance
[
]
Chung is a young boy with dark taupe shaggy hair and azure eyes. While living in the slums, Chung wore a plain outfit consisting of a patchwork baji jeogori and tattered joki. He was mostly barefoot and had a missing tooth. Later, when Physician Ma took him in his stead, he was given more clothes to wear, typically consisting a brown jeogori that was ribbon on his side and whose sleeves he occasionally folded, matching-coloured baji, and a cyan short-sleeved magoja. He also donned a pair of jipsin sandals.
Personality
[
]
Chung is quite protective of his younger brother Woon, especially given the latter's illness and because he is his remaining kin as orphans.[1] Hence, while living in the slums in poverty, Chung would resort to stealing for the sake of his brother, especially medicine. When his brother would be picked at by others, even a stranger, Chung does not hesitate to defend his brother in any way he can, such as throwing stones at him.[2] When Chung and Woon later became Sori's informal assistant, Chung would usually watch over his brother and his pesky theatrics during errands inside or outside the clinic.
History
[
]
At a young age, Chung and his brother Woon were orphaned and barely made it back from the brink of death arriving in the slums. At some point, he met Yoo Dan Ah and made an acquaintance out of her.[1]
Plot
[
]
Shadow Village Conflagration Arc
[
]
One day, Chung goes to the market streets of Hyang Ju and sees Yi Won with some medicine he is supposed to give Nabi. He then dashes to him and snatches the medicine away, with Won following him until they arrive at the Shadow Village.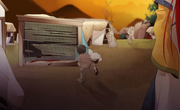 He plans to give the medicine to his sick brother Woon, but Won stops him. Chung resists to give the medicine to Won and gives some water to his brother.[1] After Chung sees Won, he points out that he is the Crimson Moon because of his red hair. Won overhears the two and asks Woon if he admires the Crimson Moon. Woon eagerly answers that the Crimson Moon is the true king and, for people like them living in darkness, the moon is their light and do not need the sun. He also wished that the current king would disappear.
Insulting Won, he calls for Baek Ryung to summon the Royal Army and raid the village. During the raid, Chung fights with Won who lifts Woon on the neck. He bites Won's leg but the latter kicks him out, with Dan Ah and Hong witnessing him. He angrily insists Won to release his brother; he then throws a stone on Won's face. With Hong's help, his brother is released and he shouts at the people that the Crimson Moon is nearby.[2] He reiterates that Won is the Crimson Moon because of his red hair and constantly calls the villagers for help.[3]
Revolt Procurement Arc
[
]
In Physician Ma's clinic, Chung cleans the house with Woon and reprimands his brother for being naughty. Later after Sori arrives and tells of the horror in the provinces, his brother exclaims that the Crimson Moon will save the people, much to his surprise.[4]
Plague Arc
[
]
Chung is with his brother Woon buying ingredients for Sori. They notice a commotion on the market and inquire about it. A market guard tells them the government has offered a bounty of one million won and is looking for a man with a huge scar on his back, giving reason to believe that they are searching for the recently-wounded Crimson Moon.[5]
Crimson Moon Rebellion
[
]
In the aftermath of the rebel army's revolt, Chung and Woon arrive back at the clinic. Sori reprimands them for leaving the crippled and amnesiac Dan Ah alone, but the children assure him that he has returned. Hence, Sori sets out to leave and fetch them, but Physician Ma asks Sori to leave them be.[6]
References
[
]
[

]