"
You may find that such a flower is not as fragrant up close, compared to when you gazed at it from afar.
"

–To Yi Won
Jang Rei, also known as Hyun Bin (현빈), is the 3rd Princess of Seo Seo and the royal consort of King Jin Won of Ga Guk.
Birth and Early Childhood
Edit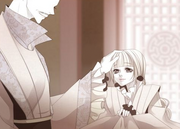 Jang Rei is the fourth child and third daughter of King Jang Ryun and Yeong Bi. As a child, she was often mistreated by her elder half-siblings and plotted to kill her. She usually spent most of her time with her nephew Jang Rok Ha, the son of her elder brother, the First Prince.[1] Though they are comfortable and friendly with each other, the First Prince despised Rei with seeing his son, thinking that she was beguiling him with her looks like Yeong Bi.
Once, Rei and Rok Ha noticed visitors from Ga Guk, including Hae Won. As Rok Ha is fetched, the First Prince arrived and slapped Rei, threatening her that he, as the Crown Prince of Seo Seo, would be the next king no matter how many times she "complained" to their father. As he left, Rei looked over to Hae Won and saw him chuckle under his breath.
That night, Rei was excluded by her half-sister from the festivities at a banquet, similar to how Hae Won was also prohibited to join. They conversed about their frustrations and how they kept their burdens inside themselves, voicing out their similarities with each other as children of mistresses. Hae Won then asked Rei to make a bet with him to see who would have a better endurance the next time they would meet, and the loser would grant the other a wish. However, Rei refused to bet with Won.
Emigration to Ga Guk
Edit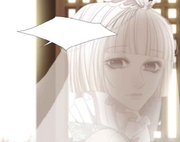 Years later, after Jang Ryun died, the First Princess succeeded in eventually killing Yeong Bi with poisoned teas, causing Rei to grieve both her parents' deaths. Because of these, when Hae Won — who was then coronated as King Jin Won — returned to Seo Seo, Rei finally agreed to make a bet with him through a game of rock-paper-scissors. Since Won did not know how to play the game, Rei won and requested him to take her away from Seo Seo as a prize for her winning the game. Several years later, Rok Ha found out about the arranged marriage of Rei with Jin Won, but he was not able to do anything to stop it. On the other hand, Rei became glad that she would finally be taken out of Seo Seo.[2]
Appearance
Edit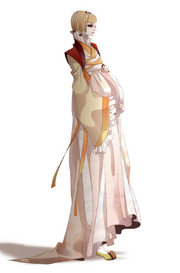 Rei is a fair-skinned woman with bluish-violet eyes. Her hair is blond straight bob cut with full bangs. Introduced as a pregnant consort in the palace, she usually wears bright hanbok and a headdress. She is seen having a stern look at most times.
Personality
Edit
Rei is depicted as a cold and wise woman by most men notably Yi Won and Jang Rok Ha. She also appears to be ambitious towards her goal of becoming the queen and winning the heart of the king by eradicating those who come in the way of her plans such as killing Yoo Dan Ah, who is selected as one of the brides of the king, although it failed. Moreover, she even placed a once-in-a-lifetime wager with Won that if their child is a girl, she would give one-third of Seo Seo to him but if their child is a boy, she would like to take the seat of empress. When they were still children, she and Rok Ha plan on ruling Seo Seo together, but Rei left her mother country, entering the palace in Ga Guk. She became self-absorbed with Ga Guk despite Rok Ha insisting for her return.
Compact Heist Arc
Edit
One night, Hyun Bin arrives at the king's quarters and wakes him up, informing him that his reward of thirty thousand nyang worth of gold coins are waiting outside, pleasing Won. As he prepares, she blackmails his concubine to leave the palace before sunrise if she wants to live.[3]
The next morning after the compact was stolen, Hyun Bin listens to the conversation of Yoo Ja Gyeom and Yoon Yeon Lee and overhears of a marriage between the king and the chief state councilor's daughter. As he comes out, she congratulates him for the marriage, and he tells him that eavesdropping is not good for her unborn child.[4]
Chase Arc
Edit
One night, Rei recalls the other night about her wager with Won. She is then visited by her bodyguard Gwak Ji Ryeon who reports to her about Won's usual excursions: visiting the gambling and gisaeng houses. However, the past few days, he has noticed that he has been frequently seen with a young maiden who turns out to be Ja Gyeom's daughter, Dan Ah. He adds that they seemingly do not know each other's identities yet. She then implies to have the lady assassinated. The next day, she and Yoon Yeon Lee visit the Valley of the Kings and are escorted by the Bi Yeong Pal Mu in exchange for her bodyguard.[5]
Revolt Procurement Arc
Edit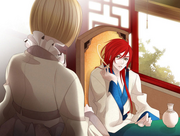 Hyun Bin becomes angry because she is not told about the king's recent unhealthy lifestyle. She bursts into the king's room despite strict orders not to let anyone in and witnesses a drunk Won.[6] Drunk, Won asks Hyun Bin to drink with him. She tries to stop him because she worries for his health. He admits that he tries to get drunk to forget a "flower", but does not get drunk. He then seeks advice from her and tells him that if he truly wants that "flower", he should take it forcibly to him.
Outside, Gwak Ji Ryeon worries why she gave such advice and fears if they end up falling in love with each other. Thinking that the king is in love with Dan Ah, Rei is relieved that the assassination attempt on her life is a failure, for the king might get "worse" if the plan worked.[7]
In her chambers, Hyun Bin is visited by her servant who tells her about the selection of the three bridal candidates. As the king will choose one candidate, Hyun Bin thinks that he will not choose her but Dan Ah, thinking that she is the one whom Won is in love with. She then receives a red letter, much to Hyun Bin's distress.[8]
Plague Arc
Edit
Upon Jin Won's return to the palace from Moon's End Village, Hyun Bin hears of the king's "accident" and rushes to see him. On the way to his chambers, she encounters some palace servants carrying the king's bloodied robes during the incident. She smells the garb and senses the scent of dream flower infused in it. She immediately decides to turn back to return to her chambers.
In her room, she asks Ji Ryeon whether he knows of the dream flower, which he acquiesces. She tells him that she sensed dream flower infused in the king's garb; patching the hints together including the red letter she received and the dream flower, she believes the incident was orchestrated by Seo Seo. She then requests Ji Ryeon to find Rok Ha, who she believes is staying in Ga Guk.[9]
Rebel Army Suppression: Setting in Motion
Edit
The next day after Won's excursion to Bi Hwa Rim with Dan Ah, Hyun Bin serves some tea to Jin Won, remarking on his seemingly positive aura. She asks whether something pleasant happened the night before, but he tells her that he is yet to find out that day, leaving her more confused.
The head servant announces the chief state councilor's arrival, after which Hyun Bin takes her leave. As they encounter each other, Ja Gyeom subtly threatens Hyun Bin's standing in the upcoming bridal selection, saying that the king has not yet chosen her as a candidate. Furthermore, he sends her some presents in the midst of her nearing due date. Hyun Bin quips that the councilor has been busy taking care of her instead of his own daughter, about whom she heard rumors that may interfere with her candidacy. The two then part ways, visibly hostile toward each other. Outside, Ji Ryeon meets Hyun Bin and tells her that he has found where Rok Ha is staying.
They then head to an inn in discreet, where Rok Ha warmly welcomes his aunt.[10] Rei angrily accuses Rok Ha of targeting Jin Won to his death, to which Rok Ha replies that it shall result to war, something that he anticipates. He reasons that he merely wishes to regain Seo Seo's lost dignity even if it means engaging a war with Ga Guk.
Rok Ha asks Rei how she knew that he was behind the assassination plot on Jin Won. Rei tells him about the red letter and the dream flower on the king's garb, earning Rok Ha's admiration yet again towards his aunt. He informs her that his father has agreed to abdicate, making Rok Ha the next in line to the throne. He also tells her his reasons for heading to Ga Guk in person, namely to stir the country to civil war and to ask Rei to return with him to Seo Seo. She staunchly rejects his offer, claiming that Ga Guk was once and will forever be her home.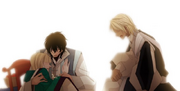 Filled with disbelief, Rok Ha informs her that her inherited land is forfeited, and he continues to pressure her into returning with him back to Seo Seo. Under intense tension coupled with the fact that she is nearing her due date, Rei's water breaks. Rok Ha summons Gyeom to fetch the midwife, but Rei tells Ji Ryeon for them to return to the palace. She then bids Rok Ha goodbye.[1]
Rebel Army Suppression: Execution
Edit
Hyun Bin gives birth at the palace, being told by the midwife that it is a prince. However, there is a catch.[2]
Bridal Selection Arc
Edit
Hyun Bin had actually given birth to twins: one boy and one girl. As a result, because neither of them wins their gamble in guessing their child's gender, she is not guaranteed to be made a bridal candidate, while Jin Won is unable to get her inherited land in Seo Seo. However, the king decides to make her the third and bridal candidate, as he is not able to find his originally intended choice.[11]
As bridal candidates Yoo Dan Ah and Hwang Se Ryeon introduce themselves to the queen mother in her chambers, Yeon Lee welcomes the two to the palace. The head servant then interrupts their meeting and excuses herself to hand a royal decree issued by Jin Won, stating that Hyun Bin is chosen as the third bridal candidate.[12] Yeon Lee is infuriated with her son's decision, though left with no choice but to acknowledge and welcome Hyun Bin. The consort is then introduced to Se Ryeon and Dan Ah, the latter of whom piques her interest due to her interaction with the king himself (albeit unknown to Dan Ah) during his excursions outside the palace.
By nighttime, a banquet is held at the palace for the three bridal candidates. Hyun Bin becomes shocked to hear and see Rok Ha at the banquet, who presents to the Queen Mother about the famed shadow dance for some entertainment. Later, as the king arrives quite tardy and apparently angry due to his intoxication, Hyun Bin notices Dan Ah's apparent nervousness, not looking at the king. Recalling how Dan Ah does not know that Won is the king, Hyun Bin invites her to take a glance at him.
Dan Ah bluntly refuses, thinking it might be rude to look at such royalty without his consent. Hyun Bin further persuades and tells her not to overthink such trivial things. After all, it would not be awkward to gaze at how her possible spouse would look like. Despite her insistence of not wanting to look at the king, Dan Ah inadvertently gazes upon King Jin Won; Hyun Bin notices Dan Ah quiver upon seeing him.[11]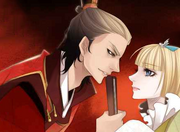 After the banquet incident, Rok Ha visits Rei and her children at her chambers. She inquires about the dancer he brought and how he seemingly used her to capture the attention of the king, but Rok Ha merely dodges her questions. In the end, Rei asks him if his concern is her inherited land that he has already taken. Rok Ha asks her to speak with utmost care, lest news of her land's forfeiture may affect her standing in Ga Guk and the bridal selection.
Nevertheless, he praises her tenacity, rising up the ranks of even becoming a bridal candidate amidst the Queen Mother's oppositions. Hence, he advises her to proceed with her decisions cautiously, since she now has more to lose. Rei asks him until when he plans to stay in Ga Guk, to which he replies until the royal wedding. He still insists on having her return to Seo Seo with him, but, in the meantime, he promises to keep his silence in exchange for a favor from her.[13]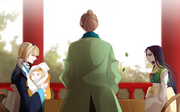 Sometime later, Hyun Bin and Dan Ah wait for the king's arrival from his sangcham. Rather awkwardly, Dan Ah compliments Hyun Bin's baby prince, but Hyun Bin bluntly states her hate towards Dan Ah for having attained that which she has always longed for. Dan Ah corrects her, saying that she is not the one that the king fancies. She also informs Hyun Bin about their "past" encounter at Bi Hwa Rim and wishes to bring back Jin Won's kind smile if she can. Though she acknowledges that the king's heart belongs to another, Dan Ah affirms that she shall not back down and protect Jin Won with all her capability.
Hyun Bin responds by reasserting her hate towards Dan Ah. However, though she concludes that getting along with Dan Ah is a bad move, Hyun Bin posits that they can be good rivals in love. Dan Ah accepts the challenge and asks for the both of them to compete fairly during the bridal selection. Hyun Bin thinks of Dan Ah as a rather mature person, while also wondering who Jin Won desires.
Dan Ah asks permission if she may approach the baby prince, so Hyun Bin asks her nursemaid, Baek Hwa, to bring forth her son to Dan Ah. After the latter sings a lullaby to the baby prince, he smiles endearingly. As they all become surprised at the child's response, Se Ryeon arrives at the gathering. Her maidservant serves them a valuable tea, whose scent Se Ryeon commends. She notices Hyun Bin lower her teacup after smelling the tea's aroma, seemingly suspicious of it. Hyun Bin pulls the tablecloth to prevent Dan Ah from drinking the tea, but due to her leg injury, Nabi instead shields Dan Ah from the spill and acquires a burn on her arm.
Amidst the commotion, Jin Won arrives and spots Nabi's injury. Frustrated, he postpones the gathering and orders them to return to their quarters. On their way back, Hyun Bin tells Ji Ryeon about the suspicious tea and orders him to find who made it.[14]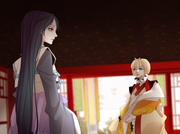 Later, Hyun Bin summons Dan Ah to her quarters, where a flock of maidservants are gathered for what seems to be a merchant sale from Seo Seo. Seol Hwa ushers Dan Ah to Hyun Bin's quarters; the consort requests Dan Ah to sing her lullaby to her baby prince, which she happily does. Without fail, the baby prince smiles endearingly, much to his mother's disappointment. Nevertheless, Hyun Bin allows Dan Ah to visit anytime as her son has taken quite a liking to her.[15]

She was given the title Hyun Bin wherein the "Bin" is the title given to the highest ranking consorts who are regarded as members of the Royal Family of Ga Guk. The prefix attached to her title which is "Hyun", is supposed to reflect the character of Rei as being wise.
References
Edit
↑ Twelve Nights webtoon, chapter 13
↑ Twelve Nights webtoon, chapter 20
↑ Twelve Nights webtoon, chapter 24
↑ Twelve Nights webtoon, chapter 29
↑ Twelve Nights webtoon, chapter 38
↑ Twelve Nights webtoon, chapter 41
↑ Twelve Nights webtoon, chapter 45
↑ Twelve Nights webtoon, chapter 48
↑ Twelve Nights webtoon, chapter 49
↑ Twelve Nights webtoon, chapter 53
Community content is available under
CC-BY-SA
unless otherwise noted.