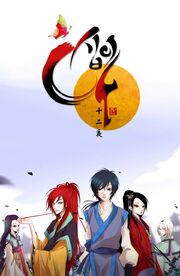 Twelve Nights (Hangul: 십이야; Hanja: 十二夜; RR: Sib-iya) is a webtoon authored and illustrated by Muryu, which was released in 2012. It is loosely based from the comedy Twelfth Night by William Shakespeare and the song A Request by Korean singer Lee Seung Hwan.[1]
Set in a fictional Korean world, it follows the story of Yi Hwi, a member of the Royal Family of Ga Guk driven out of the palace due to a coup d'état ten years prior the series. He dons the personas of a masked rebel known as the Crimson Moon and a famous painter known as Hong. He falls in love with Yoo Dan Ah, the daughter of the chief state councilor, ever since they were children after meeting her at Bi Hwa Rim. However, Dan Ah is in love with Yi Won, the king of Ga Guk, for assuming him as the one whom she met ten years ago since Won also knows the lullaby that Hwi actually sang for her in the past. On the other hand, Won is obsessed with Nabi, a young gisaeng, who is a disguise by Hwi, his paternal half-brother.
This webtoon focuses on the love triangle between Hwi, Dan Ah, and Won, whose fates intertwine as they are compelled by the desires of their families and other characters as well as of their own.
Character Map
[
]
Below is a simple diagram of the relationships among the series' major characters.
LEGEND:


— Unrequited love


— "Partner"


— Consort


— Disguise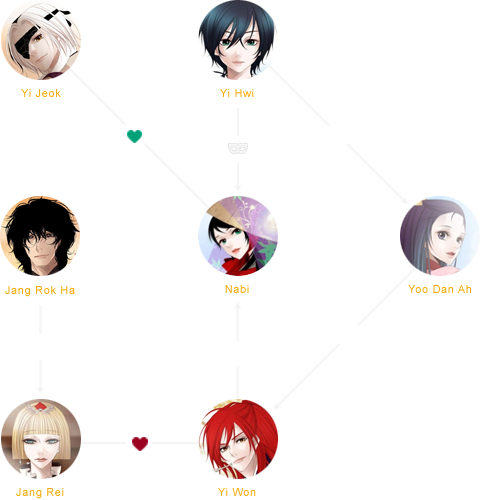 References
[
]