She is the unnamed daughter of King Jin Won and Jang Rei.
Prior to her birth, Won and Hyun Bin made a bet regarding the gender of her child. If the child is a boy, the king shall select her as the bride for the royal wedding. On the other hand, if it is a girl, she shall grant him the land she inherited, amounting to at least one-third of Seo Seo. Won bet for the child to be a princess, while Hyun Bin chose it to be a prince.[1]
Appearance
Edit
She and her fraternal twin brother inherited their mother's hair color, while she inherited her father's eye color.
Personality
Edit
As noted by Jang Rok Ha, she usually smiles and giggles a lot unlike her twin brother who was seemingly quiet.[2]
Bridal Selection Arc
Edit
As Hyun Bin gave birth to fraternal twins, neither she nor the king won their bet in guessing their child's gender. Nonetheless, Jin Won decides to make the royal consort as the third bridal candidate for the royal wedding, since he could not find his original choice for the selection.[3]
Persecution Arc
Edit
During the bridal candidacy, one of Hyun Bin's servants found her twin brother dead in his sleep due to poisoning. The prince's death took a heavy toll on Hyun Bin; the ministers and servants branded her as crazy, mentally unstable, and unfit to further take part in the bridal selection. Moreover, because of her apparent insanity, the ministers, particularly spearheaded by Yoo Ja Gyeom, decided to take the baby princess away from her mother. Hyun Bin overhears of such scheme from her servants and, in a frenzy, went to see her baby princess, who now appears to cry in her hallucinations. The king, knowing the ulterior motive of the ministers, shunned them and asked for Hyun Bin's wish after losing to her in a game of rock-paper-scissors, similar to when they were younger. She wished to stay with the king and her baby princess, which the king ultimately grants.
Epilogue
Edit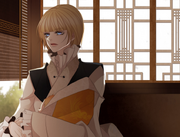 After the successful revolt by the rebel army, Yi Jeok ascends to the throne. With the death of King Jin Won, Rei and her baby princess are seen in a carriage with Rok Ha, possibly traveling to Seo Seo, though their fates remain ultimately unknown.[4]
References
Edit
Community content is available under
CC-BY-SA
unless otherwise noted.