Woon is a boy from the slums and the younger brother of Chung.
Shadow Village Conflagration Arc
Edit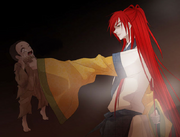 Living in the slums, Woon is a sickly child who needs medical assistance. One day, his brother Chung got him some medicine that he snatched from Yi Won, who is supposed to give the medicine to Nabi.[1] Upon seeing Won, he points out to his brother that Won is the Crimson Moon due to his red hair. Won overhears the two and asks them if they admire the Crimson Moon. Woon answers eagerly that the Crimson Moon is the true king and, that for people like them who live in darkness, the moon is their light who do not need the sun. He also wished that the current king would disappear. Insulting Won, he calls for Baek Ryung to summon the Royal Army and destroy the village. During the raid, Woon is lifted on the neck by Won and weeps amid the chaos. As his brother is kicked out by Won, Yoo Dan Ah and Hong witness the scenario. Hong fights Won and finally releases Woon.[2]
Revolt Procurement Arc
Edit
In Physician Ma's clinic, Woon plays around while cleaning the house. He bumps into Dan Ah, causing his nose to bleed. Later after Sori arrives and tells the horror in the provinces, Woon exclaims that the Crimson Moon will save the people.[3]
Plague Arc
Edit
Woon is with his brother Chung buying ingredients as instructed by Sori. They notice a commotion on the market and inquire about it. A market guard tells them the government has offered a bounty of one million nyang for anyone who can find a man with a huge scar on his back, who turns out to be the Crimson Moon.[4]
References
Edit
Community content is available under
CC-BY-SA
unless otherwise noted.