Don't look! Major spoilers ahead!
The following content and information on this page contain plot and ending details from the series. Read at your own risk.
Woon is a boy from the slums and the younger brother of Chung. He and his brother are later taken in by physician Ma Mi Song and his assistant Sori in their clinic.
Appearance
[
]
Woon has short brown hair and large, bluish-violet eyes. While living in the slums, Woon wore a plain outfit consisting of a patchwork baji jeogori and tattered joki. He was mostly barefoot and had missing teeth. Later, when Physician Ma took him in his stead, he typically wore a brown jeogori that was ribboned on his side and matching-coloured baji. He also donned a pair of jipsin sandals.
Personality
[
]
Early in his childhood, Woon is quite ill and usually taken care of his older brother, Chung. Notably, Woon has a fascination with the masked vigilante, the Crimson Moon, and often wished that he is the king instead of the erstwhile monarch, who Woon believed to have led their parents to death.[1] When Woon and Chung later became Sori's informal assistant, Woon relatively became much more energetic and lively, at times pesky to a fault, which his brother usually chides him for.
History
[
]
At a young age, Woon and his brother Chung were orphaned and barely made it back from the brink of death arriving in the slums. At some point, he met Yoo Dan Ah and made an acquaintance out of her.[2]
Plot
[
]
Shadow Village Conflagration Arc
[
]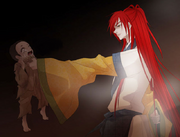 Living in the slums, Woon is a sickly child who needs medical assistance. One day, his brother Chung got him some medicine that he snatched from Yi Won, who is supposed to give the medicine to Nabi.[2] Upon seeing Won, he points out to his brother that Won is the Crimson Moon due to his red hair. Won overhears the two and asks them if they admire the Crimson Moon. Woon answers eagerly that the Crimson Moon is the true king and, that for people like them who live in darkness, the moon is their light who do not need the sun. He also wished that the current king would disappear. Insulting Won, he calls for Baek Ryung to summon the Royal Army and destroy the village. During the raid, Woon is lifted on the neck by Won and weeps amid the chaos. As his brother is kicked out by Won, Dan Ah and Hong witness the scenario. Hong fights Won and finally releases Woon.[1]
Revolt Procurement Arc
[
]
In Physician Ma's clinic, Woon plays around while cleaning the house. He bumps into Dan Ah, causing his nose to bleed. Later after Sori arrives and tells the horror in the provinces, Woon exclaims that the Crimson Moon will save the people.[3]
Plague Arc
[
]
Woon is with his brother Chung buying ingredients as instructed by Sori. They notice a commotion on the market and inquire about it. A market guard tells them the government has offered a bounty of one million nyang for anyone who can find a man with a huge scar on his back, who turns out to be the Crimson Moon.[4]
Crimson Moon Rebellion
[
]
In the aftermath of the rebel army's revolt, Woon and Chung arrive back at the clinic. Sori reprimands them for leaving the crippled and amnesiac Dan Ah alone, but the children assure him that he has returned. Hence, Sori sets out to leave and fetch them, but Physician Ma asks Sori to leave them be.[5]
References
[
]
↑ Twelve Nights webtoon, chapter 23
↑ Twelve Nights webtoon, chapter 31
↑ Twelve Nights webtoon, final chapter
[

]