He was the unnamed twin brother of King Jin Hyul.
Appearance
[
]
When he was younger, he relatively resembled his twin brother. He also had long hair which was tied into a bun, and he wore intricately-designed hanbok and a po over his robes, befitting his status as part of the Royal Family. Apparently, he had a habit of putting his left arm behind his back, almost like a mannerism.
Personality
[
]
Little is known about him, but, like his twin brother, he was willing to do anything it took to claim the throne of Ga Guk for himself. In doing so, he utilized various means and methods in his attempt to become king.
History
[
]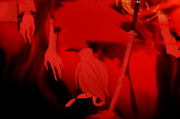 He had a bitter rivalry with his twin brother, with whom he fought over the throne of Ga Guk. Their fight for the coveted throne was dark and tragic, resulting to the splitting of parties into factions. Both claimants also resorted to various wiles, trickery, and evil schemes. This rivalry soon turned into a bloody one, but Hyul's twin brother subsequently died of unknown clear reasons, which ended the fight for the throne. Apparently, Hyul buried this tragic incident deep into his memories. In the end, Hyul claimed the throne and became King Jin Hyul, the 13th King of Ga Guk.[1]
Trivia
[
]
It is never emphasized upon, but, since Hyul kept how his twin brother died as a secret, it might be possible that he himself killed his brother or had him killed. This would later plague him in his adulthood as king, especially when he first learned that he might have twin sons.[1]
The Yi family had various cases of having twins. He himself had a twin brother, his nephews Jeok and Hwi are twins, and his eldest nephew Won had twin children.
His mannerism of putting his left arm behind his back was also apparently practiced by his twin brother and, later, his nephew Won.
References
[
]
[

]